Jan. 27th, 2021: talyo. Property Services GmbH has been appointed by the Danish pension fund PFA and Domicil Real Estate AG to carry out the commercial and technical property management of the "MikroQuartier I" portfolio. The company will also be responsible for lettings and implementing a unified management strategy.
The portfolio, managed by investment manager Domicil Real Estate AG, comprises 13 residential properties, providing 1,480 apartments with a total lettable area of 42,000 square metres. The properties, which also include 426 car parking spaces, are situated in Berlin, Bonn, Dieburg, Hamburg, Hanover, Frankfurt a. M., Cologne, Munich and Weimar. They were built between 1925 and 2019. The largest property in the portfolio is the "Hühnerposten" apartment building in Hamburg, which provides 353 apartments. Twelve of the properties are held in PFA's portfolio, while one residential property in Frankfurt was purchased by Domicil on its own account.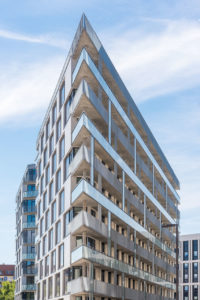 Martin Henke, managing director of talyo., comments: "As a company that is still young, we are delighted to receive this instruction from such a well-known investment manager as Domicil Real Estate. At the start of our activities, we will give particular attention to letting and the analysis and optimisation of the existing management contracts. Other aspects, such as the implementation of service desks for the residents, will follow successively."
talyo. is to manage the portfolio from its offices in Berlin, Dusseldorf, Frankfurt a. M., Hamburg and Munich. The business also plans to expand its portfolio of properties under management to around 20 – 25,000 residential units throughout Germany by 2025. As well as traditional rental apartments, this will include apartments in the 'student housing' and 'serviced apartments' segments.