September 6th, 2021: talyo. Property Services has been appointed by the Danish pension fund PFA and Domicil Real Estate AG to carry out the commercial and technical property management, as well as letting, of a residential and commercial building in Mainz, the capital of Rhineland-Palatinate, in Germany.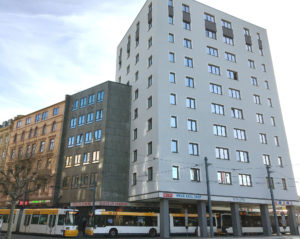 The property, situated opposite the central station on Bahnhofsplatz, is the 'Grand Central Mainz'. The apartment building, which offers 'modern living' in the heart of the city, provides 89 furnished residential units with a combined lettable area of around 3,000 square metres. There are also four commercial units, totalling 515 square metres.
Martin Henke, managing director of talyo., comments: "We are delighted that, following the 'MikroQuartier I' portfolio, Domicil Real Estate Group has awarded us a further instruction. We will manage the property to our accustomed high standard, working in close cooperation with the owners and occupiers."
Talyo will manage the portfolio from its Frankfurt office.
Copyright phote: Domicil Real Estate AG